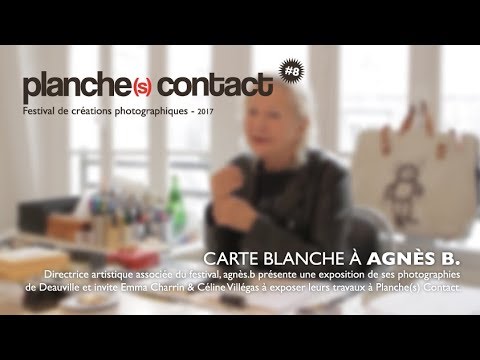 Guest of the Planche(s) Contact Festival in 2017
Agnès b., fashion designer, has created an important collection of contemporary art, of which an entire section is focused on photography. In November 1984, she inaugurated as a gallery owner, the La galerie du jour agnès b, attaching considerable importance to photography, and she opened another gallery some years later in Tokyo.
DEAUVILLE BY AGNÈS B. EXHIBITED AT LA CHATONNIÈRE:
Agnès b., invited to Deauville in September 2012 for a Carte Blanche during the 2012 American Film Festival, presented seven of her favourite American films. During her stay in Deauville, she decided to re-invent and create a new "Deauville" sweater, striped as French sailor shirts, using as alternating stripes the five colours of Deauville's beach umbrellas (yellow, orange, red, green, blue). This idea was implemented in summer 2015 in collaboration with Armor Lux.
In 2017, she came back to Deauville as Associated Artistic Director of the Planche(s) Contact Festival and to exhibit the photos about Deauville made in the latest ten years through Visions de Deauville at la Chatonnière (an exhibition area situated in a house of the 1920s).