Agnès b.
Photographer invited to the Planche (s) Contact festival in 2017
© agnès troublée dit agnès b., Untitled, Deauville, 2016
© agnès troublée dit agnès b., Untitled, Deauville, 2016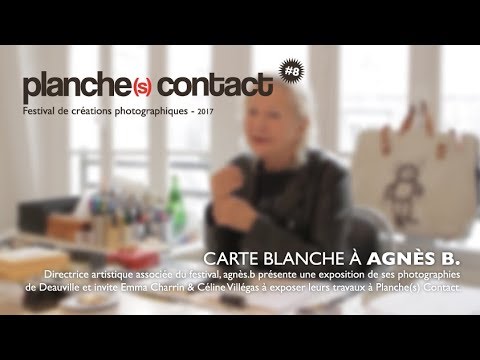 agnès b, stylist, fashion designer, has built up a large collection of contemporary art, a whole section of which is devoted to photography. Gallery owner, she inaugurated, in November 1984, La galerie du jour agnès b, which gives a large place to photography, before opening a second space a few years later in Tokyo.
THE DEAUVILLE OF AGNÈS B., EXHIBITED AT THE CHATONNIÈRE:
Invited to Deauville in September 2012 for a Carte blanche at the 2012 American film festival agnès b. presented seven of his favorite American films there. During this immersion in Deauville, he came up with the desire to reinvent and design a new "Deauville" striped shirt, using the five colors of Deauville parasols in alternating stripes (yellow, orange, red, green, blue). This sweater was made in the summer of 2015 in collaboration with Armor Lux.
She returned in 2017 to Deauville as associate artistic director of the Festival Planche (s) Contact and exhibited her photographs of Deauville, taken over the past ten years, with her series Visions of Deauville at the Chatonnière (exhibition space in a house from the 20s).
Agnès b. about his exhibition Visions of Deauville :
"I love the Normandy coast, this sweetness, this light. Deauville is a mythical place full of stories! When I come there, I always find the stay too short so ... I take photos to keep images without taking myself for (a ... e) photographer."