Learn to sail on a liveaboard
Not sure if you'd like to sail?
Embark on a two-hour sailing trip and discover sailing. It's a good way to get an idea and then move on to the next step: teaching sailing in sessions or courses.
See you at the Deauville Yacht Club
The Deauville Yacht Club was founded in 1928 and is the first club in Basse-Normandie with more than 250 members. Its vocation is to teach and enjoy sailing. Here, sailing is practiced on habitable boats (J80). The club organizes no less than fifteen regattas each year.
Practical information
The Deauville Yacht Club's sailing school is certified as a French Sailing School. Here the teaching is adapted to all levels: sport sailing, recreational sailing, for individuals, schools or groups. The school also offers daily boat rentals for people who have acquired level 3 of the French Sailing Federation (J80 or Grand Surprise).

If you have a boat and wish to improve your skills, the Deauville Yacht Club offers "boating coach" packages. If you want to brush up on your skills, go out to sea accompanied, improve your boat handling or preparation... all scenarios are possible.

From 14 years old :
Sailing discovery tour, sailing lessons for 3, 6 or 9 hours, sailing course during school vacations.
Boat rental for training, leisure or regatta (J80 or Grand Surprise)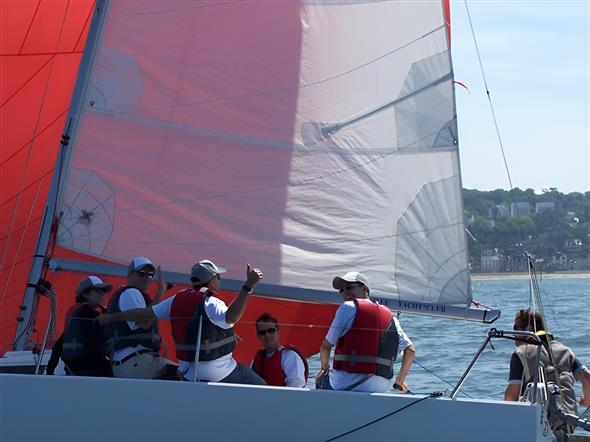 Deauville Yacht Club (DYC)
02 31 88 38 19