From Sunday 1 January to Sunday 31 December | DEAUVILLE
19 quai de l'Impératrice Eugénie
Electric bike rental - Jean knows his stuff
Electric bike rental, Bike touring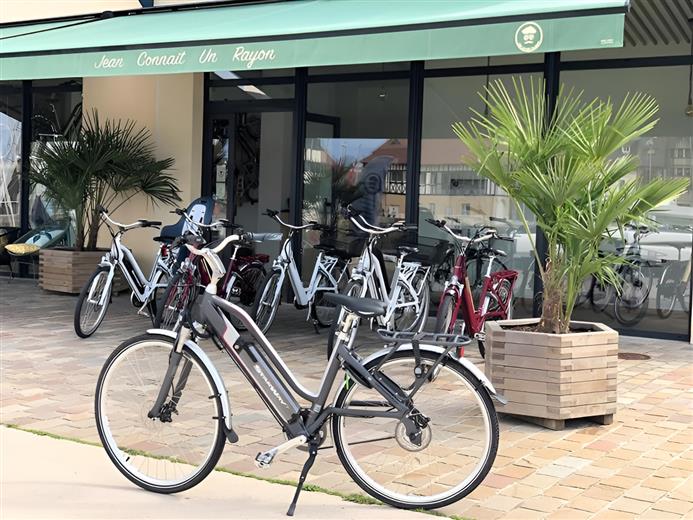 19 quai de l'Impératrice Eugénie

14800 DEAUVILLE
Upcoming dates
Openings:
Monday : 10:00 to 19:30
Tuesday : 10:00 to 19:30
Wednesday: 10:00 to 19:30
Thursday : 10:00 to 19:30
Friday : 10:00 to 19:30
Saturday : 10:00 to 19:30
Sunday : 10:00 to 19:30
Discover the nuggets of the Deauville area and beyond, in complete freedom and in "slow tourism" mode. With an electric bike, it is much easier to travel and visit a region in depth, while adopting a sustainable and respectful means of transportation for our planet. The electric bike becomes the best way to move easily, while having fun, and without making too much effort (the maximum speed allowed on an electric bike is 25km/h). Let go (without letting go of the handlebars!) and enjoy the sea air on the Côte Fleurie and the beauty of the Pays d'Auge's heritage and natural landscapes.
Even if you are not a great sportsman or a traditional bike fan, Jean's Starway electric bikes will seduce you with their design, ease of use, comfort and safety. They are suitable for all types of cycling with their range of 60 to 90 km, depending on the difficulty of the terrain (hills and use of the booster), and their weight of about 23 kg.

At the time of the reservation, an identity document and a deposit are required.
Helmet, cap and anti-theft chain are provided.
You can also take a lunch box with you on your trip (to be reserved 48 hours in advance).