A new wine bar in Deauville: the Little Manjo
Between Provence and Normandy
After a stopover in Villers-sur-Mer, Julien, Marine and Benjamin, brothers and sisters, decided to put their luggage in Blonville-sur-Mer!
From now on, to enjoy a glass of wine or a cocktail accompanied by a guacamole, hummus or a burrata, it is at Little Manjo that it happens.
Terrace, wallpaper, wooden furniture, green plants: you feel good in this bar-restaurant, open from 17 p.m. to 22 p.m.
Who are they ?
These epicurean siblings with a melodious accent from the south have come together to open a wine bar in their adopted land: Normandy.
Julien, who has been living in Dubai for 15 years as a farrier, helps Marine and Benjamin during the summer season. Marine works in stables in Normandy and Benjamin was a top athlete.
They first opened a bar in Villers-sur-Mer in 2021, then decided to move five kilometers away, to Blonville-sur-Mer.
The spirit, the name, the leaders are the same, only the place has changed..
A plank, a glass, the beginning of happiness
Fresh and homemade products
This old unoccupied premises finds a new life.
The curious who push open this glass door will find a warm and friendly place.
Julien, Marine and Benjamin have chosen to opt for homemade and to favor local products to compose their boards: a burrata accompanied by tomatoes, a delicious anchoïade, hummus, or a ham chiffonade.
The carefully selected wine list goes perfectly with the boards. Wines from Provence, Bordeaux, Burgundy, or Languedoc.... and on the cocktail side, original and revisited spritzes, a Lillet tonic, and a special cocktail based on perry.
Benjamin's crush ? An organic rosé "Annibales" from his region of origin, to brighten up the day.
An exciting address for epicureans, wine lovers and those who will become so.
And the rest?
Two projects in their head: a guinguette on the beach of Villers-sur-Mer whose opening is scheduled for May 18. There, they will offer daily specials, and drinks from morning to sunset, every day of good weather, as they like to say.
On June 1, a small local next to the Little Manjo in Blonville-sur-Mer will open its doors with take-out dishes of the day from 9 a.m. to 15 p.m. from Tuesday to Sunday.
More information
Count between 16 euros for the two-person board, and 30 euros for four people.

Open from Wednesday to Saturday outside the period and closed only on Monday during the holidays
11 a.m. - 15 p.m. & 17 p.m. - 22 p.m.
4 rue du General de Gaulle, 14 910 Blonville Sur Mer
To join them:
02 14 09 56 08
little-manjo@outlook.fr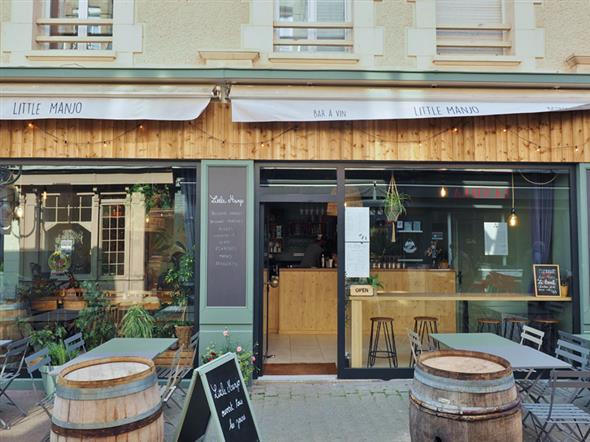 Little Manjo
Du General de Gaulle street 4
France
02 14 09 56 08