Thalazur Cabourg -Thalassotherapy & Spa
Thalassotherapy center, Swimming pool / aquatic center, Fitness room
44 BC Charles de Gaulle

14390 Cabourg
19km of Deauville
Services / equipment:
Centre Fitness
Fitness
hammam
Jacuzzi
massages
Indoor pool
Restaurant - Table d'hôtes
Sauna
Spa
Sea view
overtures
Open from 13 Jan 2020 to 03 Jan 2021
Openings:
Monday : 09: 00 à 19: 45
Tuesday : 09: 00 à 19: 45
Wednesday : 09: 00 à 19: 45
Thursday : 09: 00 à 19: 45
Friday : 09: 00 à 19: 45
On Saturday: 09: 00 à 20: 15
Sunday: 09: 00 à 19: 45
In accordance with the latest government measures, Thalazur is closing its doors until further notice.

As an extension of the sea, Thalazur Cabourg is set on the waterfront with a panoramic view of the Cabourg coastline which can be enjoyed from the outdoor seawater pool or the bar. The getaway continues at the heart of the establishment with a marine course of sea water heated to 32 ° C with geysers, massage seats and jacuzzi before going through the regenerating cold of cryotherapy.

In terms of care, the cures combine thalassotherapy and massage with Thalgo products specialized in marine beauty and algae. Their objectives are multiple: relaxation, slimming, getting back into shape or even preventing back pain. We recommend body wraps with algae to remineralize your skin and remove toxins.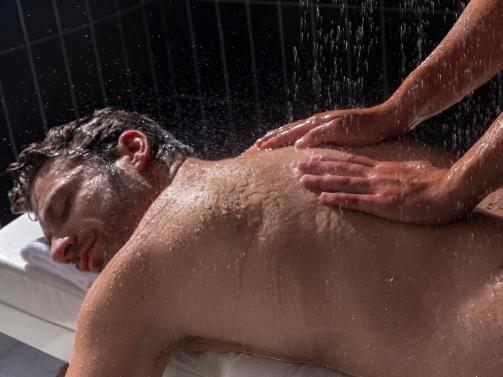 Services offered
Sports on the beach - Thalazur Cabourg
Services
Longe-côte®, Aquatic walking, Coastal aquatic walking
Cabourg