Manoir stud farm
Riding center
The Manor

14950 SAINT-PIERRE-AZIF
Horse Club of France
French Horse Riding School
Pony Club of France
Services / equipment:
Pet Friendly
Private parking lot
Site accessible to people with reduced mobility
Disabled toilet
Free Wifi
overtures
Open from May 13, 2020 to Dec 31, 2020
Openings:
Monday : 08: 00 à 19: 00
Tuesday : 08: 00 à 19: 00
Wednesday : 08: 00 à 19: 00
Thursday : 08: 00 à 19: 00
Friday : 08: 00 à 19: 00
On Saturday: 08: 00 à 19: 00
Sunday: 08: 00 à 19: 00
Welcome to a paradise for horse riding and nature enthusiasts! The Haras du Manoir covers 30 hectares of paddocks and meadows, just 10 minutes from Deauville and the coast.

With a multitude of quality services and spaces (numerous horses and instruction ponies, two quarries, a large indoor riding school, a walker, a large terrace), galloping riders 1 to 7 are welcomed in a friendly atmosphere, warm and soothing. Everyone finds their happiness at the Haras du Manoir: courses, courses with galloping, forest and beach walks, competition coaching, outings every Sunday in competition, etc.

The objective: to progress and benefit from a quality education provided by the team of experienced instructors, coached by Samuel Catel, high level rider. He has been part of the French Para Dressage team for 10 years and has participated in several major events: World Equestrian Games, European Championships ... Every Sunday, Samuel takes the students into competition in show jumping competitions . The stud team also coaches 25 riders on an Amateur circuit and three others on a Veterans circuit. Samuel also works with school children (from 4 years old) who come to ride horses. The weekends are very busy. The team organizes treks, olympiads, show jumping competitions and nature walks.

For owners, the stable offers several types of personalized services adapted to their needs and those of their mount.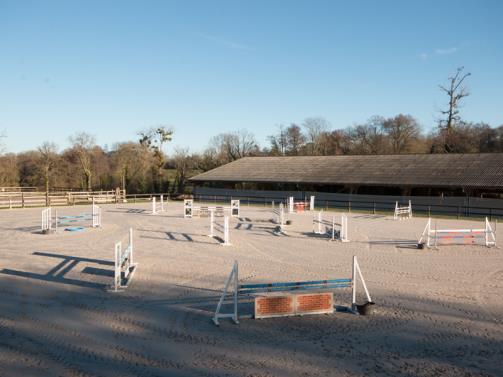 READ ON THE BLOG
THE HARAS DU MANOIR JOINS INDEAUVILLE
Marie and Samuel Catel arrived in Saint-Pierre-Azif, in 2016. In love with Deauville and its countryside, they leave their previous equestrian center located in Haute-Normandie and embark on the revitalization of this structure.
A story to share inDeauville to read here ...