Blonville-sur-Mer Equestrian Center
Riding center
1 tennis street

14910 BLONVILLE-SUR-MER
Horse Club of France
French Horse Riding School
Pony Club of France
Located between Deauville and Villers-sur-Mer, the equestrian center of Blonville-sur-Mer, labeled École Française d'Équitation, is delighted to welcome novices, amateurs and experienced riders. With around XNUMX horses, double-ponies and Shetlands in the stables, the center is open all year round, seven days a week.
Learning horseback riding or improving your skills becomes easy, thanks to lessons, courses or walks supervised only by state-certified instructors. The stables benefit from an excellent geographical location to enjoy collective and private outings in the Marais de Blonville-Villers or on the heights of Mont-Canisy (accessible from 12 years old).

Walks on the beach, close to the club, are also very popular (minimum gallop 2). For the little ones, we recommend a walk with a pony held in hand in the marsh, before moving on to riding lessons and courses. Formulas are planned whatever the level and this, throughout the year!

Vincent Pawlowski has been running this equestrian center with passion since July 2015. 20 years ago, he landed his very first position in Deauville before creating his own club in Pont-l'Evêque. A time during which he devoted himself to competition. He notably won the Normandy Hunter Championship (show jumping).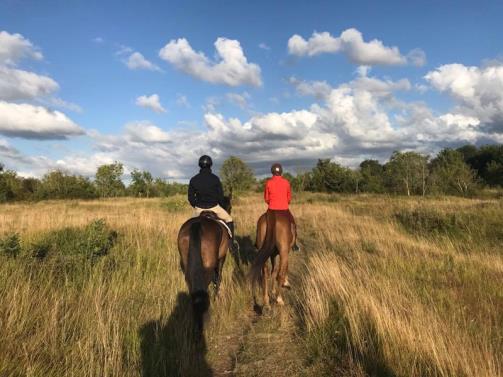 READ ON THE BLOG
THE EQUESTRIAN CENTER OF BLONVILLE-SUR-MER JOINS INDEAUVILLE: MEETING WITH VINCENT PAWLOWSKI.
Vincent Pawlowski and his team organize 500 walks a year. The center benefits from close proximity to nature between the beach, the Blonville marshes and Mont Canisy. A story to share inDeauville to read here ...